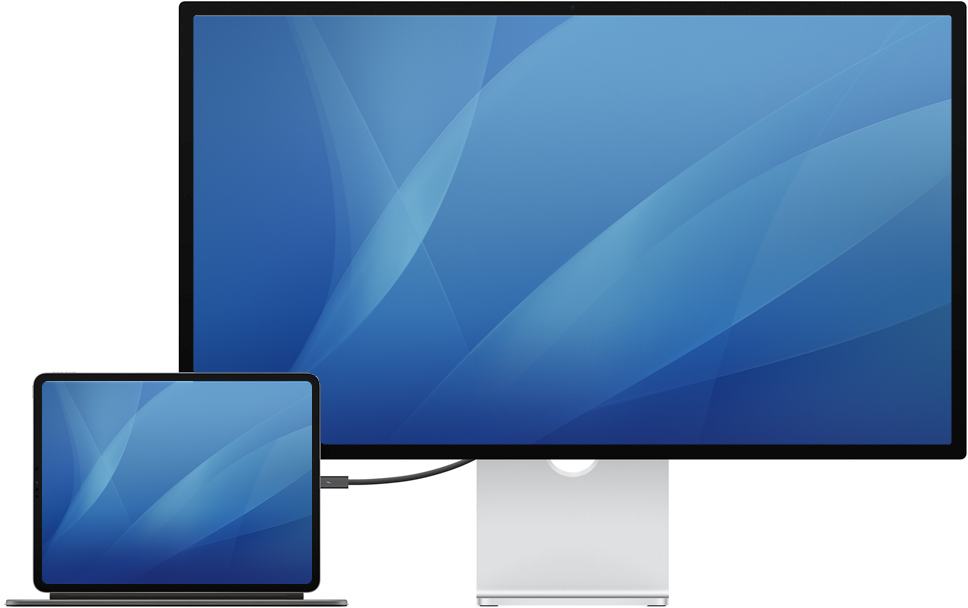 One of the most exciting features announced at this year's WWDC, external display support is coming to the iPad. But according to this footnote, extended display support is only coming to last year's iPads with a M1 processor.1
Full external display support comes to iPad Pro with the M1 chip, with resolutions up to 6K. Now you can work with different apps on your iPad and external display.
Extended Display Support is grouped together with a new multitasking paradigm called "Stage Manager" that gives iPad users fast access to overlapping resizable app windows. Prior to Stage Manager apps were tiled, and a connected external display would only mirror the contents of the iPad's display. Developer's could code their apps to take advantage of the external display for specific features like video playback, but running a separate app on an external display was out of the question.
When asked "Why did Apple make an M1-specific feature for iPad?" Apple responded:
Stage Manager is a fully integrated experience that provides all-new windowing experience that is incredibly fast and responsive and allow users to run 8 apps simultaneously across iPad and an external display with up to 6K resolution. Delivering this experience with the immediacy users expect from iPad's touch-first experience requires large internal memory, incredibly fast storage, and flexible external display I/O, all of which are delivered by iPads with the M1 chip.
If Stage Manager ran well on older iPads, Apple would enable it on them. It might just come down to RAM — the M1 iPads start at 8 GB, but older iPad Pro models start at just 4 (2018 with A12X) or 6 GB (2020 with A12Z).
I wrote about this in my last post. Extended display support has been a standard feature of Apple's pro portables since 1999; when PowerBooks rocked 64 MBs of SDRAM standard. 2018's iPad Pro offers 62× as much memory, but is restricted from running a second app on an external display.
I understand the Stage Manager experience is all about simultaneously running up to 8 overlapping apps on a 6K external display, but at the very least Apple could throw three year old iPad Pro users a bone. Bring basic full screen external 4K app support to the 2018 iPad Pro2. Anything less is just standing behind another artificial limitation iPadOS is already known for.
---
Available on iPad Air (5th generation), iPad Pro 12.9-inch (5th generation), and iPad Pro 11-inch (3rd generation). ↩︎

The 2018 iPad Pro has always supported 4K video mirroring and video out. ↩︎